You already know that modeling is your passion, or perhaps it's just a side gig. As you build your professional portfolio as a model, keep in mind that there is more to building your career than getting your photos taken. You need to find ways to get your face in front of the right people. Use social media and networking to find opportunities, but also look for agencies to introduce you to more prominent brands for more substantial work.
If you're serious about modeling, let us introduce you to our guide finding the top modeling agencies in NYC.
Important Note: Reaching out to agencies can be difficult; they receive many applications, and a lot of times, you are not hearing back from them. Try to contact as many as possible, and if you don't hear back from them, try it in 3-months again. Be persistent, and just don't give up!
SKYLAR MODELING ACADEMY
Skylar Modeling Academy offers programs that teaches newcomers the skills, provide guidance, and support they need to kickstart successful modeling career. Started by top model coaches who worked for elite brands, including Prada, Dior, Hugo Boss, Michael Kors, Vogue, and many others.
It doesn't matter where you live if you need help getting scouted, getting an agency, and start your modeling career, reach out to find out how you can benefit from the program.
Send an email: [email protected]
Give a phone call: +1 (646) 448-8445
Skylar Modeling Website
Skylar Modeling Instagram
1. IMG MODELS
IMG is a top modeling agency that represents some of the most famous supermodels, including Kate Moss, Ashley Graham, Milla Jovovich, Gigi and Bella Hadid.
304 Park Avenue South
12th Floor
New York, NY
10010 United States
Phone: 212 253 8884
Map
2. CAA FASHION
CAA delivers on promise that every client is represented by the whole agency. CAA is committed to crafting precedent-setting deals and building new brands and businesses driven by their clients' ideas, interests, and opportunities.
405 Lexington Avenue
New York, NY
10174 United States
Phone: 424 288 2000
Map
3. DNA MODELS
DNA Model Management is a global leader for luxury international talent management within the fashion, entertainment, and creative industries. DNA has some iconic board that includes Linda Evangelista and Kaia Gerber.
555 West 25th Street
6th Floor
New York, NY
10001 United States
Phone: 212 226 0080
Map
4. ELITE MODEL MANAGEMENT
Elite is a chain modeling agency with locations in New York, Los Angeles, Miami, London and Toronto. Elite has represented supermodels, such as Linda, Naomi, Cindy, Gisele.
245 Fifth Avenue
24th Floor
New York, NY
10016 United States
Phone: 212 529 9700
Map
5. FORD MODELS
FORD is the most recognized and respected name in the history of modeling. FORD Models is at the forefront of representing fashion talent around the world, operating where culture meets creativity. Main headquarters located in New York City, and with offices in Paris, Los Angeles, and Chicago, FORD continues to innovate and influence the industries of modeling and fashion.
Ford Models Website
Ford Models Instagram
11 East 26th Street
14th Floor
New York, NY
10010 United States
Phone: (212)-219-6500
Map
6. FUSION MODELS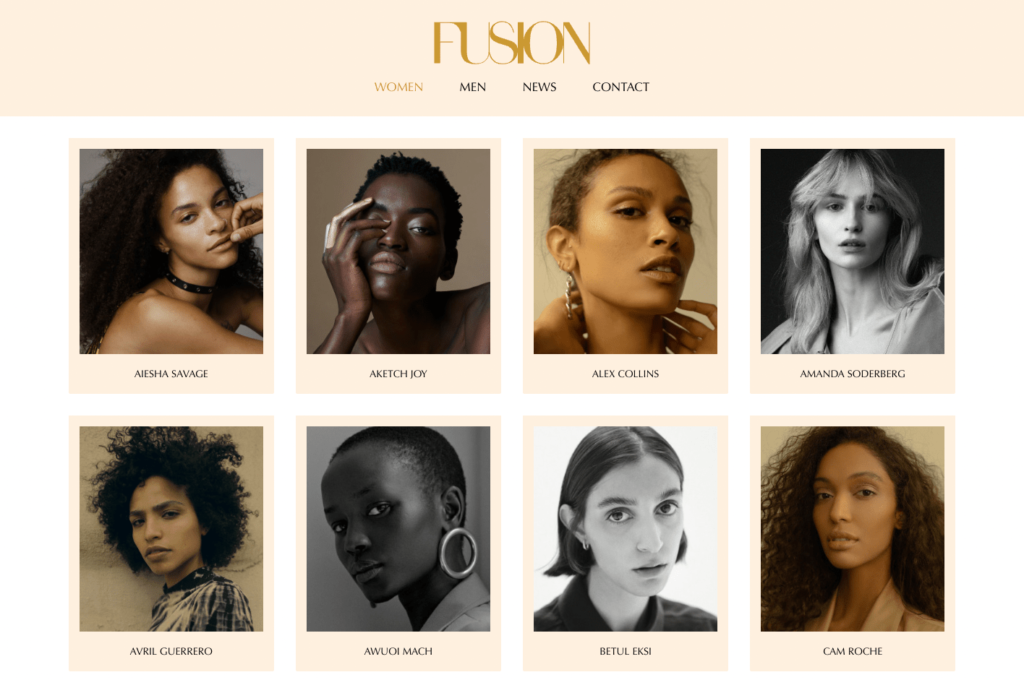 Fusion is a boutique-style agency that is quickly making a name for itself in the New York market as well as abroad.Fusion has a high-end board of men and women for work in all areas of the fashion industry.FUSION Models WebsiteFUSION Models Instagram
101 North Tenth Street,
Suite 301
Brooklyn, NY
11249 United States
Phone: 212 675 1300
Map
7. HEROES MODEL MANAGEMENT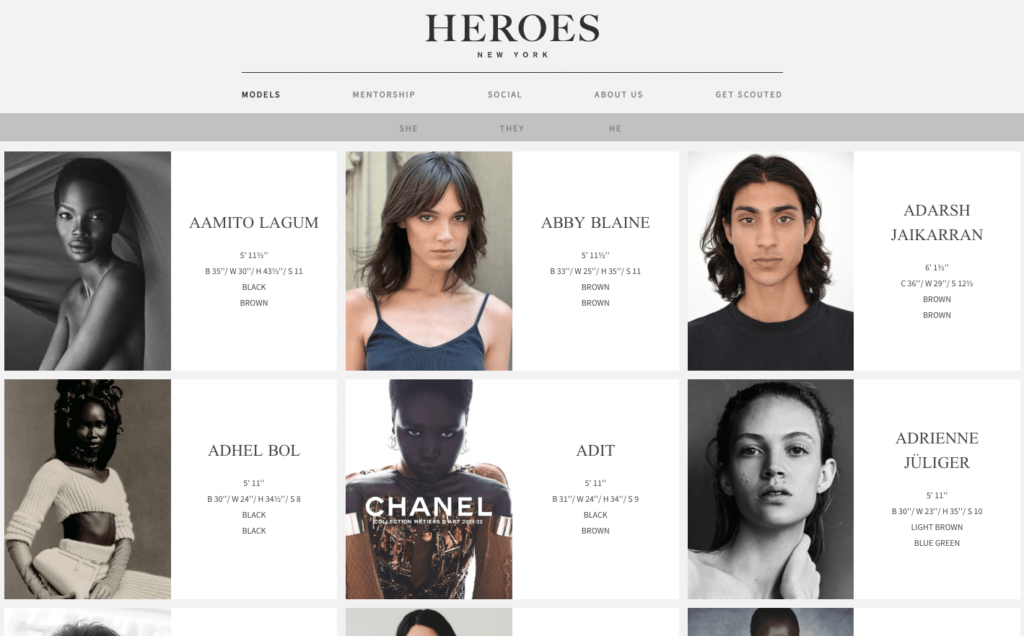 Heroes New York opened in September 2015. Heroes has already firmly established itself as one of the world's leading independent agencies. July 2020, Heroes partnered with the Black in Fashion Council as they work to lead and instigate much needed change towards a more inclusive fashion industry.
Heroes Model Management Website
Heroes Model Management Instagram
50 Greene street
2nd Floor
New York, NY
10013 United States
Phone: 212 226 2790
Map
8. THE IDENTITY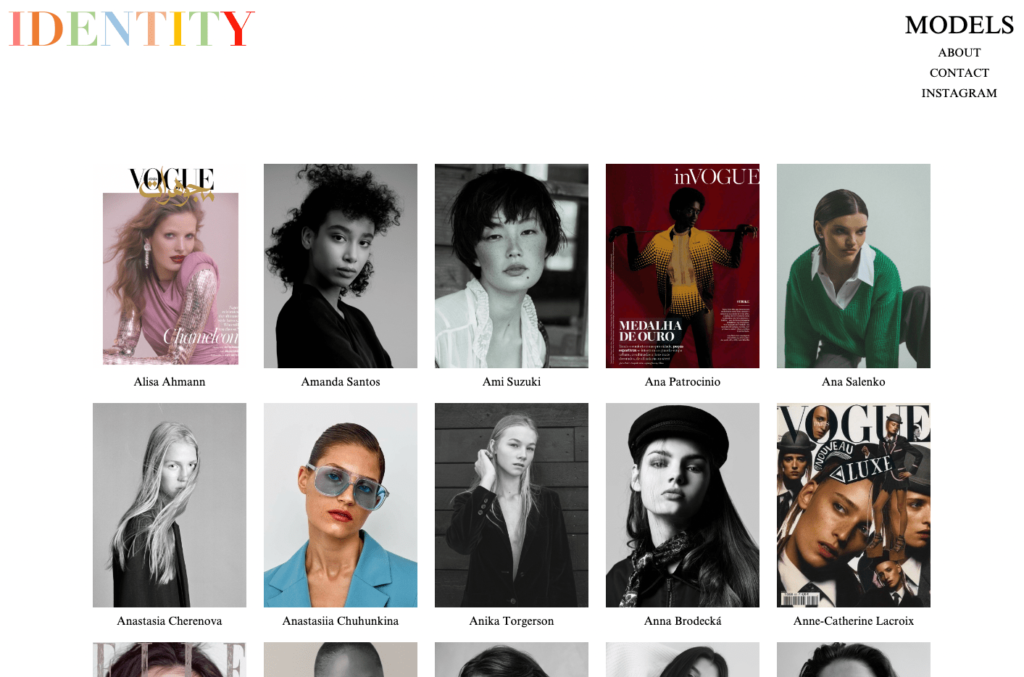 The Identity was founded in 2017 in New York City with the concept of a creative boutique to work on and develop different profiles while creating individual identities for those represented. In an era of transition into the unknown and in the midst of a high demand for content creation and branding, The identity is a solid team of young, creative and dedicated generation.
IDENTITY Website
IDENTITY Instagram
110 East 25th street
New York, NY
10010 United States
Phone: 347 471 5498
Map
9. JAG MODELS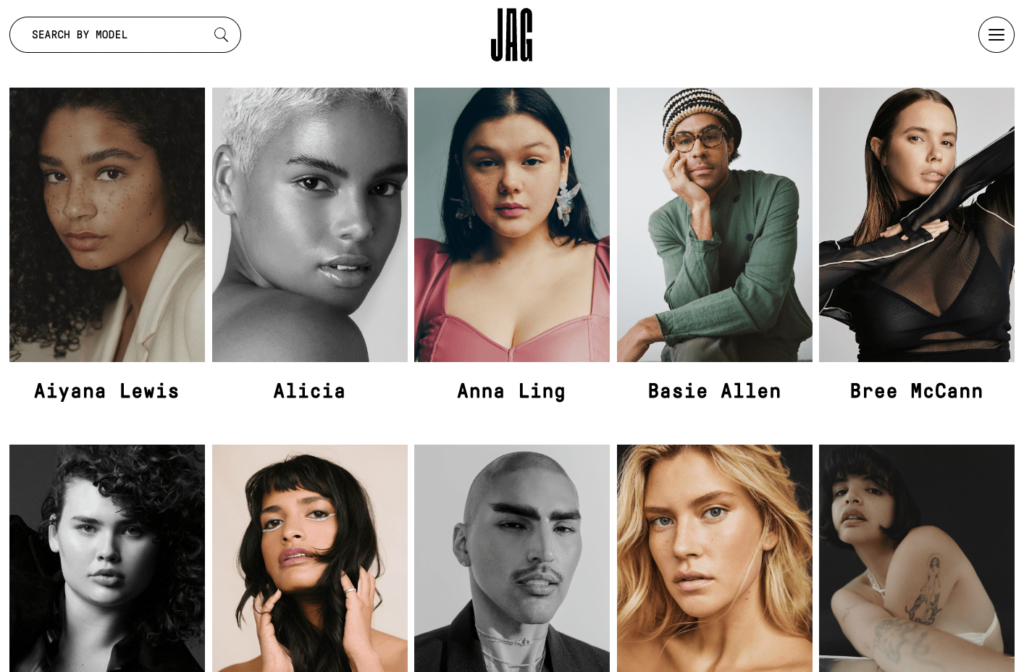 JAG Models was created with a vision of inclusivity and a strict code of ethics. Their mission is rooted in kindness, compassion, hard work and accepting individuals for who they are. JAG has the most diverse board of any modeling agency worldwide.
JAG Models Website
JAG Models Instagram
154 West 14th St,
Floor 2
New York, NY
10011 United States
Phone: 646 398 9684
Map
10. MAJOR MODELS MANAGEMENT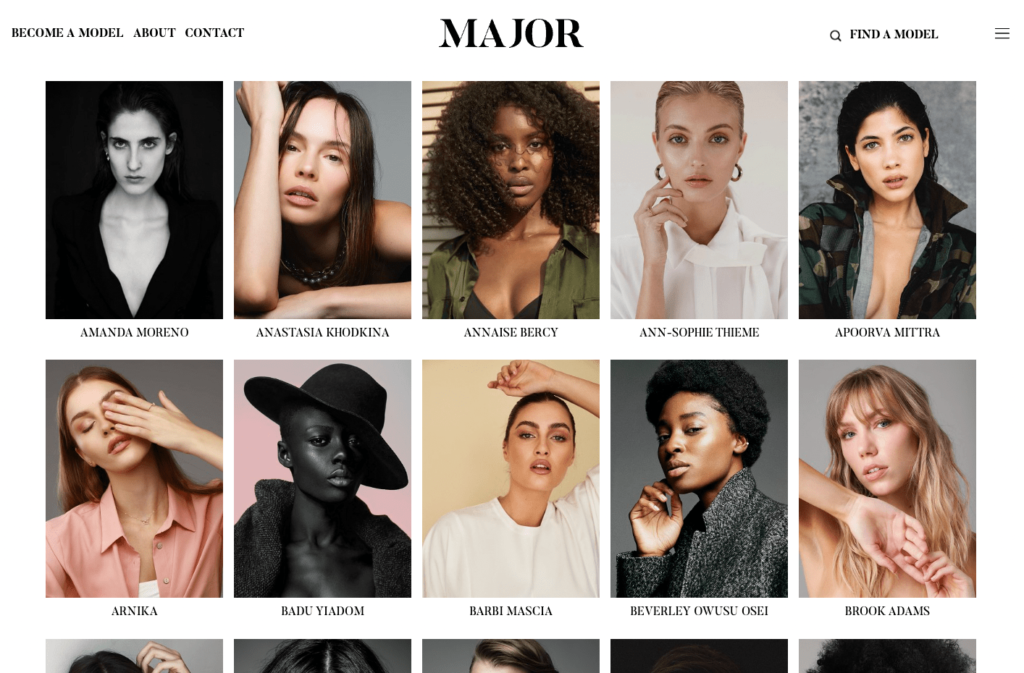 Major's team is comprised of powerful, seasoned agents, combined with a new generation of creative visionaries that will lead the agency into the future. If you are seeking an agency that puts passion and ethics first – combined with a loyal family atmosphere, Major Models is the place for you.
Major Model Management Website
Major Model Management Instagram
344 West 38th street
Suite 602
New York, NY
10018 United States
Phone: 212 265 6500
Map
11. MARILYN AGENCY
Representing some of the most established fashion models, including: Claudia Schiffer, Bar Refaeli, Tasha Tilberg, Julia Stegner, Maggie Rizer, Shannan Click, and Mini Anden, to start.
Marilyn Agency WebsiteMarilyn Agency Instagram
The Chelsea Arts Building
210 11th Avenue, Suite 704
New York, NY
10001 United States
Phone: 212 265 6500
12. MUSE MANAGEMENT
Muse Management has built the client reach of a powerhouse while maintaining the management style of a boutique. Muse Management is respected worldwide as an industry leader in diverse beauty and represents high fashion, curve and men.
MUSE Management Website
MUSE Management Instagram
150 Broadway
1101
New York, NY
10038 United States
Phone: 212 625 2356
13. NEW YORK MODEL MANAGEMENT
New York Model Management is one of the top modeling agencies in New York City. Sister to L.A. MODELS, an established full-service agency on the United States West Coast, and L.A. TALENT, a television and commercial agency for beauty in Los Angeles and HollywoodSome of the top models represented by New York Models include industry icons, Meghan Collison, Amy Wesson, Anna Jagodzinska, Olga Sherer, Sui He.
NEW YORK Model Management Website
NEW YORK Model Management Instagram
71 West 23rd Street
Suite 301
New York, NY
10010 United States
Phone: 212 539 1700
14. NEXT MANAGEMENT
NEXT Management is a well recognized global modeling agency that represents top models with locations in London, Paris, Milan, Los Angeles, and Miami. Some of their models include Arizona Muse, Kate Upton, Anais Mali, Marloes Horst, Binx, Anna Cleveland, and Lineisy Montero.
NEXT Management Website
NEXT Management Instagram
15 Watts Street
6th floor
New York, NY
10013 United States
Phone: 212 925 5100
15. ONE MANAGEMENT
Founded in 2001, the agency is bi-coastal with a presence in New York and Los Angeles.
ONE Management Website
ONE Management Instagram
42 Bond Street
2nd Floor
New York, NY
10012 United States
Phone: 212 505 5545
16. Q MODEL MANAGEMENT
Q has become known for paving the path for such supermodels and celebrities as Charlize Theron, Ivana Milicevic, Scott Weiland of Stone Temple Pilots, Nigel Barker of America's Next Top Model, Magali Amadei, Cordula, Andres Segura, Melissa Keller and Peter DeVries.
Q Model Management WebsiteQ Model Management Instagram
354 Broadway
New York, NY
10013 United States
Phone: 212 807 6777
17. SOUL ARTIST MANAGEMENT
When you walk into Soul Artist Management, you are immediately struck by the intimacy of the environment, as if you have walked into some ones home and in a sense you have.
Soul Artist Management Website
Soul Artist Management Instagram
11 West 25th Street
9th Floor
New York, NY
10010 United States
Phone: 646 827 1188
18. STATE MANAGEMENT
Founded in 2015, STATE Artist Management offers image, main board, as well as Kids board.
State Management Website
State Management Instagram
525 7th Avenue
Suite 904
New York, NY
10018 United States
Phone: 212 302 7792
19. SUPREME MANAGEMENT
Supreme NY was founded in 2000 with the rise of new talents across social media. They are looking for unique profiles and stand-out characters beyond those found in the sphere of traditional beauty.
Supreme offers boutique, high-end talent management.
Supreme Website
Supreme Instagram
55 Hudson Yards
3rd Floor
New York, NY
10001 United States
Phone: 212 334 7480
20. THE INDUSTRY
Women's boutique model agency, with offices in both New York and Los Angeles. The Industry Model Management (Industry Models) is part of the Art & Fashion Group Company, which includes the iconic Pier59 Studios, the world's largest advertising production facility boasting the highest calibre of international fashion and advertising clients.
The Industry Website
The Industry Instagram
9 Chelsea Piers
Level 3
New York, NY
10011 United States
Phone: 2​12-6​60-8​800
21. THE LIONS
They embody a new type of agency, devoted to building powerful personal brands out of the talent, passions, and ideas that make their clients truly extraordinary and unique.
The Lions Website
The Lions Instagram
286 5th Avenue
12th Floor
New York, NY
10001 United States
Phone: 212 226 7360
22. THE SOCIETY MANAGEMENT
Established in 2013, The Society Management serves as the New York division of the prestigious Elite World network.
The Society Management WebsiteThe Society Management Instagram
55 HUDSON YARDS,
3rd FLOOR
New York, NY
10001 United States
Phone: 212 377-5025
23. VNY MODELS
Over the past 20 years VNY Models is focused on maintaining a family-style hands-on approach to build and manage models. Taking less models has been a special ingredient in the success of the agency.
VNY Models Website
VNY Models Instagram
928 Broadway
Suite 700
New York, NY
10010 United States
Phone: 212 206 1012
24. WILHELMINA
Wilhelmina Models is one of the most prominent talent management agencies in the world. Founded in 1967 by Dutch supermodel Wilhelmina Cooper, Wilhelmina Models has earned its prestigious standing as an industry leader by providing full-spectrum model management for women, men, curve, fitness, as well as entertainers, and musicians.
WILHELMINA Website
WILHELMINA Instagram
300 Park Avenue South
New York, NY
10010 United States
25. WOMEN / 360
WOMEN 360 operates as a boutique management agency, where each talent is seen as both an individual and a brand. They are part of the Elite World Group network of fashion talent agencies, W360 has offices in New York, Los Angeles, Milan and Paris.
WOMEN/360 Website
WOMEN/360 Instagram
55 Hudson Yards,
3rd Floor
New York, NY
10001 United States
Phone: 646 443 9820
26. WOMEN MANAGEMENT
Founded in New York in 1988. Women represents some of the world's most renowned fashion talents including Mariacarla Boscono, Isabeli Fontana, Hanne Gaby, Lais Ribeiro, Coco Rocha and Iris Strubeggar among others.
WOMEN MANAGEMENT Website
WOMEN MANAGEMENT Instagram
Hudson Yards
3rd Floor
New York, NY
10001 United States
Phone: 212 334 7480
27. APM MODEL MANAGEMENT
They are leading influencers and opinion formers at the heart of the industry, having the insight to inspire through their diversity and mindfulness.
APM MODEL MANAGEMENT Website
APM MODEL MANAGEMENT Instagram
53 West 36th St.
New York, NY
10018 United States
Phone: 212.966.3336